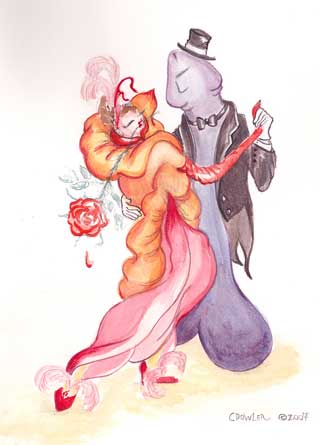 Image copyright 2007 Chrissie Dowler
With sex all around us, oozing out of our televisions, theaters, magazines, fashion, on the streets, one would think we are the most sexually informed, open and comfortable nation on the planet. We manage to connect sex to just about anything we sell, buy, eat, smell, see, or touch. It is such a part of our daily lives, we have become like fish in water, unaware of its constant presence…except of course when a tit falls out in the middle of Super Bowl. It's no wonder, then, that when a new study, "Why Humans Have Sex," by Cindy M. Meston and David H. Buss, revealed its finding that there are 237 reasons why people have sex, every media outlet jumped to cover it.
Typically, however, the news and related conversations came and went, leaving us no better educated than we were before. This topic deserves greater attention. I would like to press the pause button long enough to have us stop and think about our sexual lives and ask the following question:
How is it that we are so obsessed with sex, and yet know so little about it?
As a couple and family counselor, I have first hand experience with the confusion, frustration and pain so many people experience due to their lack of education. The impact is not merely hurting individuals in their bedrooms, but deeply affects their overall relationship with their partners, as well as, their self esteem. Our sense of self arises out of all that we are. Among many other things, we are sexual beings. This part of us has not been fully examined, understood or expressed. We cannot suppress or ignore our natural drives anymore than we can suppress or ignore an earthquake. It will express itself one way or another, and for our society it has emerged as a chaotic, dysfunctional obsession.
Whereas most of us are aware of the many horrific sexual disorders plaguing our society including, rape, human trafficking, incest, pedophilia, and violent pornography, we are not as cognizant of the unconscious, yet profound ways our sexual suppression is affecting our families.
I believe it is time to remove the taboo around human sexuality, responsibly embrace our biological drives and begin to discuss this issue more openly and honestly so that we do not continue to perpetuate the same harmful effects on future generations.
My primary focus in this paper is to discuss how our lack of comprehensive sex education contributes toward many of the difficulties experienced by heterosexual couples. There are several evolutionary, physiological, cultural, social and spiritual factors impacting individuals' sexual attitudes and behavior. It is important to understand how each of these variables influences the whole. However, since physiology plays the most significant role for most people, and I am not writing a book, I will limit this discussion predominantly to this factor.