Transform the Planet is an online community intent on promoting and creating a vibrant, peaceful and thriving planet. We believe the greatest pleasures life has to offer is the joy and fulfillment that flows from participating in challenging and constructive undertaking. Given the great potential which exists in each one of us, we know that collectively we can accomplish what could not be accomplished separately.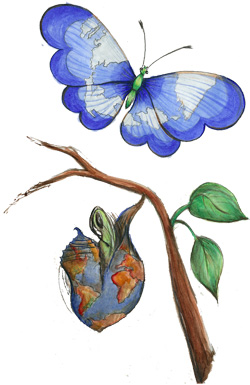 Imaginal Cells
Have you ever wondered how the caterpillar metamorphosis into a butterfly? When we learned about this miraculous process we realized that here is the blueprint to transforming the planet.
As the caterpillar turns into a glob in its cocoon, miraculously - out of nowhere - new cells, called the Imaginal Cells, begin to emerge. Perceiving the Imaginal Cells as enemies, the caterpillar cells devour them one by one. It is not until the Imaginal Cells unite with each other, pulling together their energies and resources… that they finally triumph over the others…Voila, a butterfly is born.
Imaginal Humans
Transform the Planet emerged from the recognition that there are countless individuals and organization who are tirelessly working on the myriad of challenges that are currently facing our planet and all its inhabitants. We are clear that in order for us to have greater impact and truly make a difference, like the Imaginal Cells, we need to pool our infinite resources, exchange information, strategize and jointly work to create a force which will transcend our current state of affairs.
Furthermore, we are reaching out to inspire those individuals who have not yet awakened to their true potential, and unite us all around the vision of transforming the planet.
Our Premises
• The planet is our greater home.
• We are interconnected, not only to each other, but to a greater universal force, the Creative Source.
• Each one of us has come to this planet to contribute his/her unique essence to serve the whole.
• We possess within us the passion and power to effect great transformation.
• Free will requires having an awareness of the choices we have.
• We can accomplish anything toward which we set our minds, hearts and spirits.
Our Imaginal Strategy
We have created a three pronged approach to advancing change: